Q&A with Provisional Psychologist, Tammy Barber from Horsham
When Tammy first started her internship as a provisional psychologist in 2019, there were limited grants available to help ease the financial strain of weekly supervision costs. Recent changes to the Health Workforce Scholarship Program meant that Tammy could access financial support from RWAV to help her to continue to practise and afford supervision costs as a provisional psychologist based in the country. We caught up with Tammy to ask her a few questions about life as a psychologist in Horsham.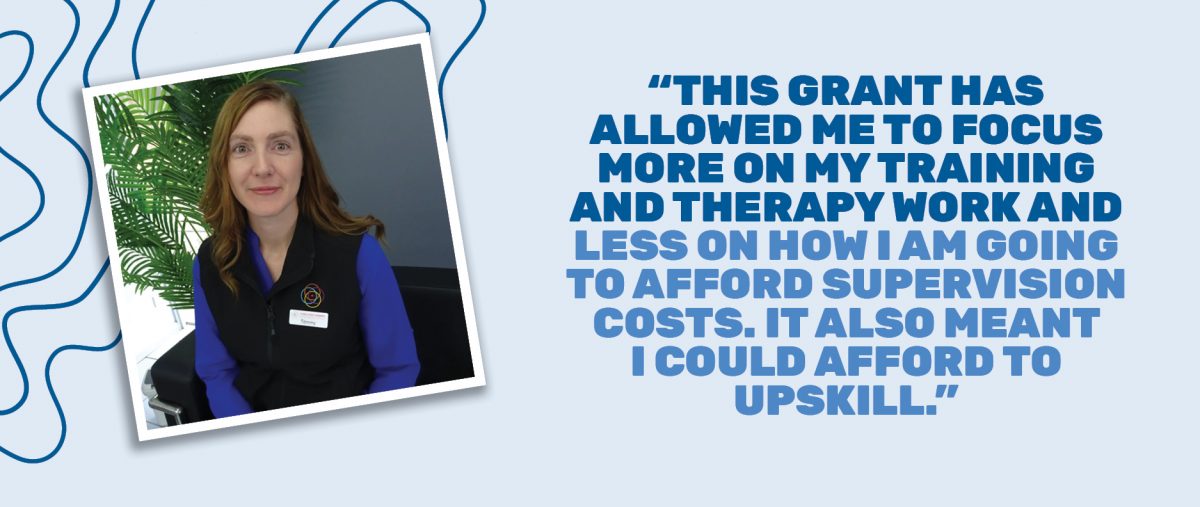 Where has your career pathway taken you and how did you come to work at Function Therapy in Horsham?
I wanted to be a psychologist when it was first introduced at my high school as an elective. There was never anything else that I thought was my passion. However, personal events meant I was unable to continue university at that time. After moving from Geelong to a farm in the Wimmera and having a family, I was still longing to be a psychologist so I enrolled as a student at 26. I completed a Bachelor of Behavioural Science with a major in psychology and a minor in advanced psychology with Swinburne Online. This meant I was able to continue living in a rural area, work part-time, raise a family and complete my studies all at the same time.
By my fourth year at Monash, I hadn't seen many job offers for new graduates within the region so I began looking for alternative ways I could use my degree. I contacted Function Therapy after I saw them advertising other allied health positions. I was incredibly lucky to find Kirsty and Rob Armstrong. They had already noticed gaps in the availability of mental health services in the community and were interested in expanding their occupational therapy practice to include psychology. Despite the complexity and limitations of being an intern, they were willing to provide me with an opportunity to complete my pathway to full registration as a psychologist.
Tell us about the work that you predominately do as a provisional psychologist
My primary role at Function Therapy is to provide psychological therapy and services. This may include therapy, assessments, diagnoses, and case consultation. I use a range of evidence-based therapies and techniques to help clients with mental health issues such as depression, anxiety, behavioural difficulties, trauma and loss.
I see clients from various referrals, such as the NDIS, the PHN, and the Department of Health and Human Services, and ages ranging to preschool to the elderly. I have just started expanding our mental health services to include group programs such as the Seasons for Growth Program, which provides support for children aged six to 12 years who may be experiencing difficulties with recent loss or major life changes. 
You recently received a bursary through the Health Workforce Scholarship Program, how did you utilise the grant?
All provisional psychologists are required to have regular supervision, usually one to two hours per week from a fully registered psychologist. Supervision is to help oversee all clinical work provided by the provisional psychologist to ensure clients are receiving professional and appropriate treatment. Like myself, most provisional psychologists have to pay for their supervision, but also are either in volunteer positions or low incomes due to being a trainee.
When I started my internship at the start of 2019 there were no grants to help ease the financial strain of paying for supervision each week. However, RWAV could see the need for people like myself to provide professional services in rural Victoria once qualified. So, over the past 12 months they made changes to allow grants to cover costs of supervision, which I was able to access this year. This grant has allowed me to focus more on my training and therapy work and less on how I am going to afford supervision costs. It also meant I could afford to upskill.
What areas of mental health training are important for provisional psychologists working in rural and regional areas? Is there a high need for more psychologists in the region?
I think it is important when working in rural and remote areas to be flexible in your role. There are limited psychologists in rural areas and people presenting with a wide range of difficulties. I believe there is a lack of services for more severe mental health issues such as borderline personality disorder, schizophrenia, and bipolar disorder.
Accessing psychologists with specialised training for these types of disorders often requires substantial travel for clients. There is also a lack of assessment and diagnostic services, especially for children and people with disabilities.
I think we have a unique situation in country areas that require a broader knowledge base to cover the community needs. However, training can be out of reach as generally psychologists require a master's degree and a further two years specialised supervision for endorsement in specific areas of psychology (such as education and developmental psychology or clinical psychology). Even if a psychologist was able to complete their degree online, supervision would still be difficult to obtain due to limited psychologists trained in these areas who are also trained supervisors.
What do you love about living and working in the country?
I find people in the country can be more relaxed and flexible. A smaller community means knowing the people I work with or people I engage with in the community, so it is a familiarity. I also live on a farm and travel over half an hour to work, but I get to see the countryside during that time rather than traffic and buildings. I love the space and quiet that country life offers, especially for raising a family.
Are you interested in work opportunities? Currently RWAV is seeking clinical psychologists to provide outreach services as part of a Chronic Pain Management Program in priority communities based in Western Victoria. Click here to learn more about this opportunity.
Are you interested in pursuing professional development opportunities or postgraduate studies? Consider applying for the Health Workforce Scholarship Program. RWAV offers grants and scholarships to health professionals working in private practice in rural and regional Victoria. Find out more here.
The Health Workforce Scholarship Program is an initiative of the Australian Government Department of Health administered by RWAV in Victoria.