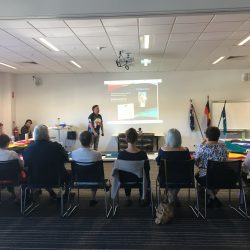 RWAV facilitated a Cultural Respect and Appreciation Workshop in February at Gateway Health, Wodonga which was run by AJ Williams-Tchen. Health professionals from across the region attended the workshop and found it interesting, informative and engaging.
Topics covered during the workshop included Aboriginal and Torres Strait Islander culture, colonisation, connection to the land, country and spirit and the role of the family and community. Discussions included the importance of 'Asking the Question' identification of Aboriginal and Torres Strait Islander clients, cultural protocols and 'Closing the Gap' on health outcomes. The workshop was practical and provided interactive learning opportunities, allowing participants to practice culturally safe health care to Aboriginal and Torres Strait Islander clients.
Participants identified some key learnings including the importance of involving the extended family in an individual's health care and the importance of family and community in an individual's overall health and well-being. They learned how to better engage with clients and their families, using appropriate terminology, how to refer to individual's families including Aunties, Uncles, and cousins.  Having an understanding of key events in Aboriginal and Torres Strait Islander history such as colonisation and the Stolen Generation and how they impact on client health outcomes today.
Participants identified changes they would make as a result of attending the workshop as provide safe and friendly environments within their practices for Aboriginal and Torres Strait Islander clients, involve the family in appointments and decision making of client's health issues, take more time to understand their needs and to ask more questions.
RWAV is delighted to have facilitated cultural training where local healthcare workers gained a much better understanding of the needs of Aboriginal and Torres Strait Islander clients.  The training will enable Aboriginal and Torres Strait Islander clients to build stronger relationships with mainstream health workers and services resulting in better health outcomes.
The next Cultural Respect Workshop will be held on the 4 April at Colac Area Health Service, Colac. For further information contact vicoutreach@rwav.com.au.