Paving the way for a career in Rural Victoria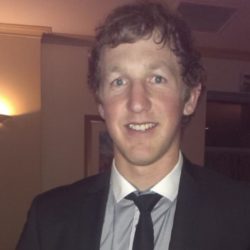 Ryan Toohey, a Physiotherapy student at Latrobe University was awarded a Rural Clinical Placement Grant to assist with the costs of his 5 week clinical placement at Western District Health service in Hamilton. RWAV through the Future Workforce Program provided 18 grants to medicine, nursing and allied health students who completed their clinical placements in rural Victoria in 2016.
Ryan's clinical placement enabled him to learn about assessment and treatment of acute and post-acute stroke sufferers and the difficulties they face in everyday life living in regional areas such as Hamilton. He also had the opportunity to work at the Hamilton Special School where he was able to interact with children with special needs, broaden his understanding of a variety of neurological disorders and syndromes.  He was able to provide them with treatments which were both entertaining and effective. Ryan had the opportunity to be part of an allied health team on an acute hospital ward where he liaised with a variety of health professionals to problem solve appropriate management for patients. He said it helped him "realise the importance of discharge planning for patients at a regional health service, due to the lengthy transport that each patient may have to undertake to go home to their family or to another health service, depending on their current state of health".
Ryan found his placement rewarding and said he felt like his treatment "contributed to the improvement of patients' quality of life, which is a great feeling to have". His advice to fellow students is to take on a rural clinical placement because "you will enjoy the close knit community that will support and guide you." He also recommends them to learn about nearby towns and other medical services in the area as it will help them when developing discharge plans for their patients.
He is glad to have completed his 7 years of university and is looking forward to pursue his passion of traveling for a little while in South American and Europe. On his return Ryan is excited to start his career in Physiotherapy and knows he will "really enjoy the experience if he found an opportunity in rural Victoria".
For more information on our Future Workforce Program please contact futureworkforce@rwav.com.au or call 03 9349 7800.
Children thriving in Mildura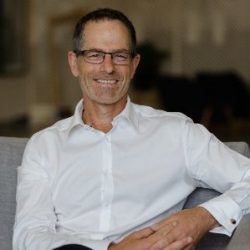 RWAV's VicOutreach Rural Health program focuses on improving health outcomes for people living in rural and regional Victoria. The scheme provides financial support for healthcare professionals providing outreach services. Nina Woulfe, Director of In Leaps & Bounds in Mildura talks to us about the impact of the program on the local community of Mildura. Through RWAV's VicOutreach program Associate Professor Michael Marks provides Paediatric services to the since April 2016. Michael is a senior Paediatrician in the Department of General Medicine, Royal Children's Hospital and a Clinical Assoc Professor in the Department of Paediatrics, University of Melbourne.
Nina says " RWAV's contribution to the local Mildura community has been immeasurable".  Prior to the involvement of RWAV, there was a 3 to 6 month waiting list for parents to secure an appointment with a local Paediatrician.  Some families had to travel long distances to Melbourne or Adelaide to access a Paediatrician.
Assoc Professor Marks is "part of our family now and he loves coming to Mildura – it really has been a great success for the community of Mildura". Having access to Assoc Professor Marks has been extremely well received in the local community by parents and health professionals alike.  They are very appreciative of being able to see Michael close to their homes regularly. There have been very positive outcomes for the children in the local community including a number of children identified with Autism Spectrum Disorder where Assoc Professor Marks has ensured they receive the support they require to achieve the best possible outcomes for them to thrive.
Nina rates RWAV a "10 out of 10" and that "the communication is exceptional and feel like we are truly being supported with the needs of the local community.  I could not speak highly enough of the personnel that we are involved with at RWAV."
ABCs of Practice Sustainability Workshop
Growing Your Rural General Practice
Transform your clinic into a thriving business with the right people and environment.
These two day workshops are designed specifically for Practice Managers and owners who wish to expand their knowledge of business trends. You will gain a greater understanding in areas such as Human Resources, Finance and Risk Management.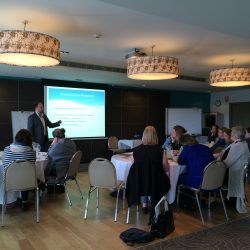 Sale Workshop
24 – 25 February 2017
Ibis Conference Centre
25-42 Princes Highway VIC 3850
Click here to download the flyer.
Click here to download the program.
Registration form
RWAV Closing the Gap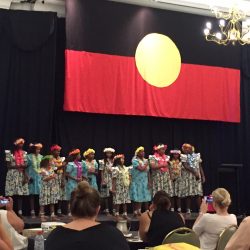 RWAV was represented by Shae Wissell and Amber Neilley at the combined World Indigenous Allied Health and 5th National Closing the Gap Indigenous Health conference, held in Cairns in December 2016.
The conference highlighted inspiring initiatives, successes and challenges faced by allied health workers improving indigenous health outcomes both in Australia and overseas. The conference raises awareness of the continuing complex health issued faced by Aboriginal and Torres Strait Islander communities across the country and how organisations are work together to 'Close the Gap". Guest speakers from America spoke of the ongoing health disparities for native indigenous Americans, who face health, social and economic disadvantages due to colonization and a loss of culture, connection to land and trauma. Issues faced by Aboriginal and Torres Strait Islander Communities in Australia are very similar.
Amber and Shae where Key Note Speakers presenting on Healthy Ears – Better Listening, Better Hearing program and ran a plenary session on the significant outcomes of the Indigenous Ear and Eye Surgical Support Services. Both sessions where well received with interest from across the country. They both received awards for their amazing contribution and the impacts made by RWAV programs in improving Ear and Eye health of Aboriginal and Torres Strait Islander communities in Victoria.
Read more about our Indigenous Eye and Ear Surgical Support Service (EESSS)
Cultural training and its impact on health services in Echuca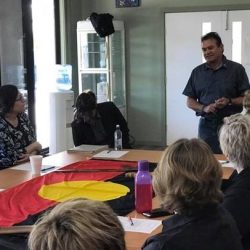 RWAV facilitated the first of many cultural awareness training workshops in November at Njernda Aboriginal Corporation, Echuca which was run by AJ Williams-Tchen.  Health professionals from Echuca Family Medical, Echuca Podiatry, Echuca Primary Care Clinic, Echuca Health, Echuca Medical Clinic and Njernda Aboriginal Corporation enjoyed the workshop and found it very interesting, informative and engaging.
Participants identified some key learnings which included the involvement of extended family in an individual's health care, appropriate  terminology to use, no eye contact doesn't mean the client is disengaged, how to refer to individual's families including  uncles, cousins and the importance of family and community in an individual's overall health and wellbeing.
Some significant changes that participants identified they would make when as a result of attending the workshop, were to provide a more Aboriginal safe and friendly environment within their practices, involving family in appointments and decision making process of patient's health issues, taking more time to understand their needs and to ask more questions.  Feedback from participants on the day. "The staff from ERH said it was best cultural Awareness Training  Workshop, yes very beneficial could pass that on AJ and beautiful thing about it was  the venue at Njernda  in Aboriginal setting –out comfort of hospital settings "Aunty Barb Gibson – Thorpe.
RWAV is delighted to have facilitated this cultural training where local healthcare workers gained a much better understanding of the needs of Aboriginal and Torres Strait Islander clients that they are working with.  This in turn will enable Aboriginal and Torres Strait Islander clients to build stronger relationships with mainstream health workers resulting in better health outcomes to the local community.
The next workshop will take place at the Pyrenees House, East Grampians Health Service Ararat in December 2016.
For more information on the Cultural Awareness Workshops and registrations please contact Paul Tzikas, VicOutreach on 03 9349 7800 or pault@rwav.com.au
Exploring while helping people heal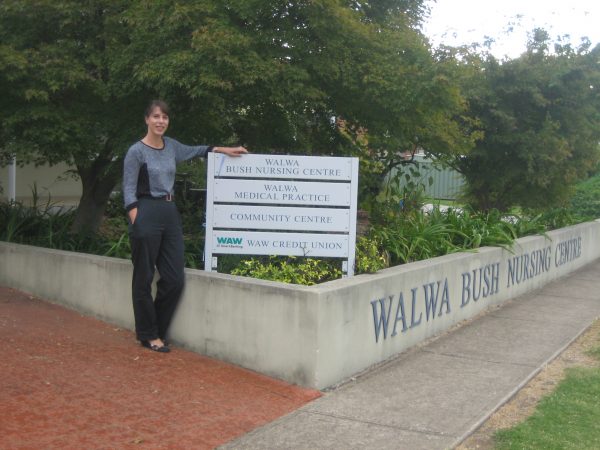 Dr. Stephanie Tovey, born in New Zealand, moved to Australia to complete her post graduate Medical degree at Flinders University. After spending 2 years in Adelaide, Stephanie relocated to Darwin for her clinical placements. Her exploring nature led her to complete her elective terms in Swaziland, Africa and Berlin, Germany. Completing medical school, Stephanie moved to Melbourne to follow her passion to become a General Practitioner, following her parents' footsteps.   Stephanie was inspired to pursue a career in general practice by both her parents, who were GPs in Auckland.
Stephanie in keeping with her innate drive to explore, decided to become a locum and experience living in different parts of Australia and work at diverse clinics. Her first Locum placement was in Walwa as a new fellow doctor. She was "slightly nervous not knowing what to expect but RWAV and the team at the clinic were incredibly friendly, helpful and supportive and made my experience a very positive one".
The rewards of rural healthcare according to Dr. Tovey are the " feeling of making a big contribution to a community, and the ability to have great relationships with the local people and get to know them better than you might in a large city". Though working as a locum has some challenges like "having to get used to new clinics, work environments and seeing patients for the first time" but the "rewards are great". Dr. Tovey says being a Locum opens up new adventures like the opportunity to travel, explore Australia and have amazing experiences.  She says "good remuneration, flexibility to specify your work areas, times and expectations" makes locums a very rewarding career option. Stephanie advices new locums to go into each job with a "good attitude and willingness to work cooperatively with the team and they will go out of their way to make your work smooth and enjoyable for you". "Make the most of your time in a new place, explore the area and have fun", she adds.
Dr. Tovey is grateful for the great support and assistance she received from RWAV.  She said "RWAV has a lot of rural opportunities and were flexible and open to listen to what would be important from me and kept in touch throughout to make sure I was going well, which I really appreciated". She went on to say that by working with RWAV it also helped the clinics which might otherwise not have access to the workforce they need. Stephanie looks forward to settling into a rural clinic next year while having a few more locum adventures on the side.
Walwa Medical Centre has an ongoing need for locums, for more information on this position or other locum opportunities, please contact the Locum Services Program Officer on 9349 7800 or email locum@rwav.com.au
Positive Outcomes accessing ENT Services in Gippsland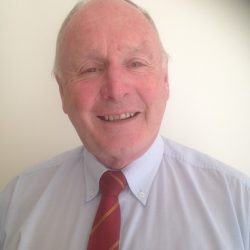 Dr. Michael Wilson's dedication to improving Ear, Nose and Throat (ENT) health in Aboriginal and Torres Strait Islander communities started over 25 years when he worked in the Kimberley.  He practised extensively in the Kimberley, Geraldton and Alice Springs, to ensure children and adults received early intervention, treatment and surgery, which had positive outcomes in their lives.
Dr. Wilson made numerous attempts to provide consulting and surgery to Aboriginal and Torres Islander communities closer to home in Victoria, but it was "only when RWAV made contact" that he was able to make this a reality.  Dr Wilson is a vital asset to ensuring ENT services occur within Gippsland, providing positive outcomes to Aboriginal and Torres Strait Islander communities, through RWAV's Healthy Ears, Better Hearing –  Better Listening Program.
Specialist ENT services are often considered inaccessible to the Aboriginal and Torres Strait Islander Community due to long delays and high costs. To address this issue in the Gippsland region, RWAV contacted Michael Wilson, President of the Victorian ENT Society and Stephen O'Leary, Professor of ENT at Melbourne University to provide an outreach consulting service, in partnership with Gippsland and East Gippsland Aboriginal Co-operative (GEGAC) and Ramahyuck District Aboriginal Corporation.
Michael Wilson, will be  operating  on a dedicated list of Aboriginal and Torres Strait Islander children. He is "grateful to the Aboriginal Health Workers who talks to each patient and make sure they understand the benefits and are well informed of the procedures". This makes patients feel comfortable and well supported which contributes to the success of the program. Dr. Wilson is delighted to be able to consult and operate on patients "in their own home town instead of traveling to Melbourne". He has already treated 15 patients at GEGAC and 5 at Ramahyuck.
Dr Wilson is encouraged by the response and the program having positive impacts on the children who received appropriate treatment to enjoy their childhood without hindrances due the ENT complications.
To continue the positive impacts in ENT health in Gippsland he feels "upskilling Aboriginal Health Workers and GPs, as well as increasing the number of trained Aboriginal and Torres Strait Islander Audiologists" is essential.
Dr. Wilson thanks RWAV for initiating this important program and says  "none of this would have happened" if not for the initiative taken by RWAV and looks forward to participating with four other ENT specialists, to provide consulting and surgical visits in 2017.
RWAV commences Cultural Awareness Training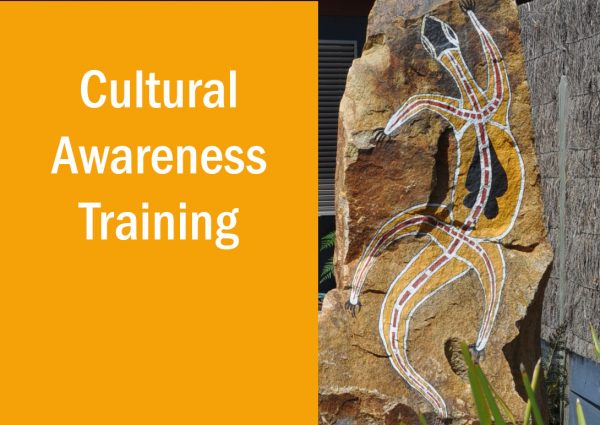 RWAV will be facilitating cultural awareness training workshops throughout Victoria.  These workshops will support healthcare workers to deliver culturally safe outreach services to Aboriginal and Torres Strait Islander clients.
Training is delivered by leading cultural trainers who will  provide rural health professionals with practical and interactive learning techniques. Topics covered include Aboriginal and Torres Strait Islander culture, connection to land, country and spirit, closing the gap on health outcomes among many others.
The Cultural Awareness Training workshops will be offered free. The training will be offered at Njernda Aboriginal Corporation, Echuca in November followed by Pyrenees House, East Grampians Health Service Ararat in December 2016.
Download Flyers
Cultural Awareness Training Echuca
Cultural Awareness Training Ararat
For more information on the Cultural Awareness Workshops and registrations please contact Paul Tzikas, VicOutreach on 03 9349 7800 or pault@rwav.com.au
RWAV Rural Ambassador wins Student Optometrist Award
We are proud to announce that Emily Glover, one of our Rural Ambassadors, was the recipient of "The Inspiring Student Optometrist Award" presented at the recent Doctor of Optometry Student Conference 2016.  Emily received the award from Collins Street Optometrists at the annual event organised by University of Melbourne.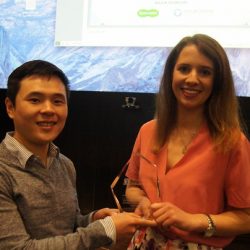 As a Rural Ambassador of RWAV, Emily aims "to raise awareness about the exciting opportunities in rural healthcare to Victorian secondary and tertiary students". She is the Interdisciplinary Health Officer and the Optometry Representative of the Outlook Rural Health Club at the University of Melbourne.  She has hosted many rural-themed lecture events, promoted RWAV initiatives and services while encouraging interdisciplinary networking.
"RWAV has been a medium for me to learn about the Future Workforce Initiatives, RWAV services and grant opportunities offered to graduating health professionals" which she has shared with her colleagues. "I have received constant support and encouragement from RWAV to be that extra link between health students and RWAV", says Emily, which has helped her to inspire optometry students and has given her the passion to continue into the future.
Emily's interest in rural health has grown as she understands "what a vital role health practitioners play in a patient's quality of life, particularly in rural areas where it is harder to access health services". She thinks it is "pretty special when you can be a part of someone's life in managing their health, making it such a positive experience that they want to continue coming back to see you, and also encourages their family to come and see you, as their family doctor".".
Emily has been involved with the Outlook Rural Health Club at The University of Melbourne building an interdisciplinary committee with representatives from; Medicine, Dentistry, Physiotherapy, Audiology, Speech Pathology, Optometry and Nursing, demonstrating engagement with a wide range of allied health students promoting rural health care. The committee has organised Interdisciplinary Movie Night, Interdisciplinary Rural Health Careers Nights and Beyond City Borders Rural Information Evening lecture events. Last year she worked with the General Practice Student Network to host the Rural Case Files event where "health students engaged in discussion, role play and clinical scenarios with a rural focus". Emily has advertised "Indigenous lecture events and offered opportunities for students to publish their rural placement experiences in Horizons and Outlook magazines. Emily found the time to help organise rural health career days for students at Ballarat Base Hospital and undertook Aboriginal Cultural Competency training in Shepparton.
Emily is looking forward to becoming a "knowledgeable and enthusiastic health professional" and set up an independent family-orientated practice where she can make an exceptional difference to her patient's quality of life, through improving their sight. She hopes to become "more involved in paediatric optometry", encouraged by her involvement in the Teddy Bear Hospital – a program run between The University of Melbourne and The Royal Children's Hospital, to fundraise for The Good Friday Appeal. Emily is enthusiastic to "continue inspiring the next generation of optometry and other allied health students to learn about rural health".
To find out more about the range of opportunities available for Medical Students interested in a career in rural Victoria or about our Rural Ambassador program, please contact the Workforce Support Program Officer on 03 9349 7800.
Expressions of interest now open for Clinical Leads
Rural Workforce Agency Victoria is seeking expressions of interest from GP Proceduralists  to become Clinical Leads.
You will coordinate and develop the delivery of appropriate [Speciality] training posts in rural and regional Victoria and provide on-going support to medical practitioners at the training posts.
Coordinate and develop the delivery of appropriate [specialty] training posts
Provide on-going support to medical practitioners
Establish and maintain working relationships with stakeholders in a new and developing program
Education activity design and delivery, involving the establishment of learning outcomes mapped to the RACGP and ACRRM curricula and the constructive alignment of these learning outcomes with education activities and assessment.
For more information and position description