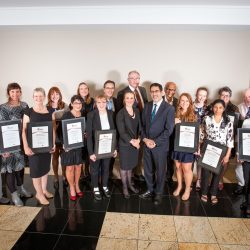 In April, rural health professionals gathered in Creswick, Victoria for the 13th annual Victorian Rural Health Awards to recognise and honour the outstanding commitment and dedication of 25 health professionals working in rural Victoria.
"We celebrate GPs, rural GP locums and medical specialists, who not only go beyond their call of duty but also support each other and mentor the next generation of health professionals," said Dr Yousuf Ahmad, Rural Workforce Agency Victoria (RWAV) Chair. "We value allied health workers, nurses, practice managers, and Aboriginal health workers who provide invaluable support and expertise to build strong healthcare teams.
View the full listing of recipients
Nominations for the Victorian Rural Health Awards are put forward by members of the public, community organisations and local healthcare providers and assessed by an independent panel of judges. This year's judges included Dr Frances Poliniak, PESCI Assessor, Lisa Collison, Australian Primary Health Care Nurses Association, David Osman, Australian Association of Practice Management and Jeff House, Services for Australian Rural and Remote allied Health.
RWAV thanks the Victorian Department of Health and Human Services for its generous sponsorship and support of the Victorian Rural Health Awards.