Healthy Ears Better Hearing Better Listening
Healthy Ears Better Hearing Better Listening
The VicOutreach Healthy Ears program furthers access to health services for the diagnosis, treatment and management of ear and hearing health for Aboriginal and Torres Strait children and youth up to 21 years of age.
Other activities include promoting prevention, detection and management of ear diseases by increasing access to outreach health services.
Changing young lives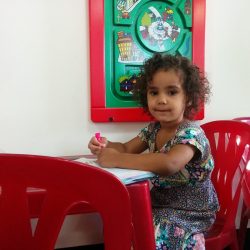 RWAV was instrumental in changing the lives of nine Aboriginal and Torres Strait Islander children from Mildura and Echuca. They were able to undergo ENT surgery after being on wait lists for years.
Though a bit hungry having to prepare for surgery, little Armani decided to colour while in the waiting room "in the big city". Her concerned mum says she can't wait for Armani to be a "kid again" as she is always sick and feeling tired due to complications with her tonsils. She is constantly on pain medicine and antibiotics. This surgery will "make all the difference to the entire family".  Bobbi-Jean, Armani's mother couldn't hide her emotions saying she is "so happy, lucky and grateful and can't wait to see her daughter "growing up with no complications and just enjoying life."
Read more about the children we have supported here