Eye HealthPathways
RWAV completed a joint project with the PHNs to develop Eye HealthPathways that have specific information for GPs on how to manage and appropriately refer Aboriginal and Torres Strait Islander clients who present with eye conditions. The Eye HealthPathways is a free web based portal designed for use during consultations to assist clinicians to navigate patients through what can be a complex primary and acute health care system. Enabling a more seamless patient journey to ensure rural Victorians obtain the most effective care at the right time in the most appropriate setting. Access to eye health is one of the key issues for rural communities. We have 1.4 million people living in rural Victoria and some regions have very poor access to ophthalmologists, optometrists and eye surgery.
The HealthPathways are intended to support GPs with diagnosis and most importantly provide access to information on local referral pathways. Having this information available online helps doctors to have this resource at their fingertips.
The PHNs developed 5 Ophthalmology HealthPathways including:
Murray PHN – children's eye issues and diabetic retinopathy
Western Victoria PHN – macular degeneration
Gippsland PHN – acute and open angle glaucoma
RWAV worked closely with each of the PHN's clinical working groups, which comprised local representatives of GPs, optometrists, ophthalmologist and Aboriginal and Torres Strait Islander communities who developed the clinical component of the pathway. These working groups provided expertise, clinical governance for coordination of outreach eye health services at the point of delivery and ownership within the community.
RWAV's role included the provision of specific information relating to alternative pathways and service providers for Aboriginal and Torres Strait Islander patients with eye health issues within each rural PHN region relating to:
private hospitals
public hospitals
day surgery units
ACCHOs
ophthalmologist outreach services funded under Rural Health Outreach Fund
Visiting Optometry Scheme suppliers
Victorian Eye Scheme suppliers
Victorian Aboriginal Subsidised Spectacle Scheme
Below is an example of what the management page of the HealthPathways looks like. Any information pertaining to Aboriginal and Torres Strait Islander clients is identified using the Aboriginal and Torres Strait Islander flags.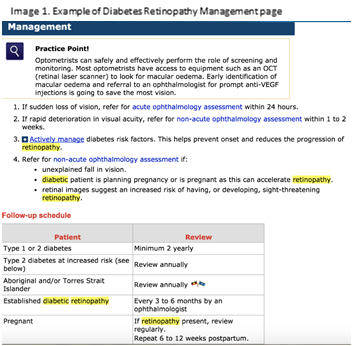 RWAV contracted an ophthalmologist to develop Health Pathways resource pages relating to:
refractive error
use of retinal cameras in ensuring quality eye images for review
Refractive Error: Refractive error impacts 65% of Aboriginal and Torres Strait Islander people and is easily corrected with glasses or contact lenses. This page was developed to ensure appropriate referral pathways to optometry services and subsidised spectacle schemes for Aboriginal and Torres Strait Islander people.
Retinal Cameras: Aboriginal and Torres Strait Islander Communities have higher rates of diabetes which can lead to diabetic retinopathy. This page provides specific information on how screening photographs can be taken for patients with diabetes who do not yet have a diagnosis of diabetic retinopathy. The cameras will enable diabetic clients to have regular reviews of their eyes to reduce the risk of developing diabetes retinopathy.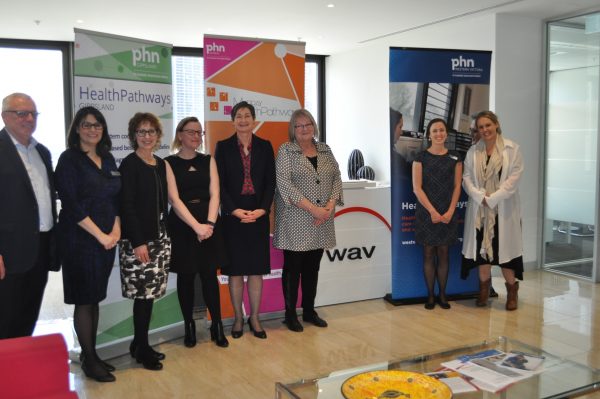 RWAV together with the Murray, Gippsland and Western Victoria Primary Health Networks launched the Eye HealthPathways at the RWAV office on World Sight Day on the 12 October 2017. The launch was a success with representation from a number of stakeholders including VACCHO, Fred Hollows, Vision 2020, PHNS, Department of Health and Department of Health and Human Services. This initiative was the first of its kind – partnership between RWAV and the PHNs as well as the first time the PHNs had come together to develop a joint HealthPathways project.