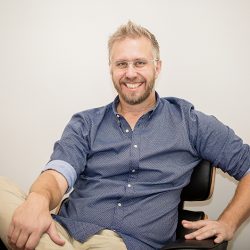 Ian Johansen is the Manager at headspace Swan Hill. RWAV caught up with Mr Johansen to ask him about being a recipient of the Allied Health CPD Scholarship and how it has helped him in his current role. He's also got some advice to share for other allied health professionals looking to join Victoria's healthforce.
Tell me about your journey in allied health and how you came to work in Swan Hill.
I began as a youth worker in rural Queensland in the late 1990s. This lead me to find my calling as a social worker and I studied at the University of Queensland in the early 2000s. After graduating, I have worked in the Queensland State Department for Disability Services, New South Wales State Department of Health in supporting Foster Carers and in the Victorian Department of Health in the Hospital Admission Risk Program, before starting in a role with a more specific role in youth mental health.
I now work for headspace Swan Hill delivering youth mental health services.
I understand you were the recipient of an Allied Health CPD Scholarship. Why did you want to obtain the scholarship and what did you use it for?
As the recipient of an Allied Health Postgraduate Scholarship I have been able to enrol in the Master of Youth Mental Health at Melbourne University. This course was particularly appealing because of the link between Orygen – The National Centre for Excellence in Youth Mental Health and Melbourne University. Orygen have engaged industry leaders in Youth Mental Health from across Australia to deliver the teaching material and it has been excellent. This has allowed me to access the very latest evidence in youth mental health service delivery.
Would you say the scholarship has helped you in your current role?
The knowledge I have received has helped me immensely in my current role. This has sharpened my understanding of the evidence and has given me tools for application straight away with young people in my clinical work. One of headspace Swan Hill's values is to be innovative thought leaders and valued partners. This training has allowed me to be a source of knowledge transmission for the team I am a part of, and it helps our organisation provide this information to the wider community.
Do you have any advice for other allied health professionals who are seeking a role in Victoria's healthforce?
Just last week I asked a CEO of a local organisation what he thought makes the difference between leaders and managers. One of his observations is that "leaders are continual learners. Keep learning – this keeps you fresh and equipped to inspire others." Pretty good advice I reckon.
RWAV acknowledges the funding received from the Victorian Government Department of Health & Human Services for the Allied Health Postgraduate Scholarship Program.