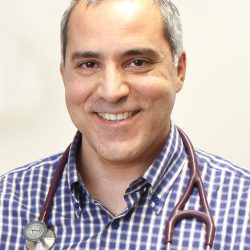 We are delighted that Dr Sanati pour from Mildura was honoured with a Medal of the Order of Australia for his service to medicine as a general practitioner in the recent Queen's birthday honours.
Dr Sanati pour arrived in Australia in 2004 from Turkey and has been a passionate advocate for providing health services to the underprivileged members of his community. He is particularly focused on improving health outcomes for Aboriginal and Torres Strait Islander communities and the large refugee populations surrounding Mildura.
Dr Sanati pour works to facilitate the arrival and settlement of refugees and to improve their access to health services by organising health workshops, after-hours services and weekly refugee clinics which also incorporate mental health assessments.
He was the recipient of GP of the Year Award, Royal Australian College of General Practitioners, 2016 Rural Doctor Award for Outstanding Contribution, Victorian Rural Health Awards, 2016, Excellence in Health Care Award, Australian Medical Association, 2014, Rural Registrar of the Year, Royal Australian College of General Practitioners, 2011.