Melbourne, 22 June 2022
It is with great sadness and heavy hearts that we announce the sudden passing of Anthony Webb, RWAV'S General Manager – Operations and Compliance. Anthony was an invaluable member of RWAV's leadership team and an integral employee of our organisation. He will be dearly missed as a friend and colleague to us all. But above all, we'll remember Anthony as a wonderful human being and the soul of RWAV.
Anthony worked with RWAV for 22 years holding various executive management positions in governance, finance, risk management, compliance and corporate support. Originally from rural Queensland, Anthony trained as a solicitor before moving into health management. He worked with Queensland Health and Central Highlands District Health Service, and held a Bachelor of Law and Graduate Diploma in Health Management.
During his time at RWAV, Anthony witnessed first-hand the changing landscape of rural health in Victoria, and the many contributions made by RWAV that improved access to primary healthcare services in rural and regional communities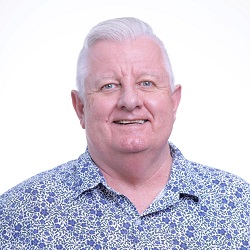 In 2020, we had the privilege of celebrating Anthony's 20-year anniversary of working at RWAV. In this interview with Anthony Webb, he shares his reflections of those 20 years of unwavering dedication to RWAV and all things rural health.
Our entire team is in shock at this great loss. We remember Anthony's knowledge, wisdom, charm and his dreams. Following his annual pilgrimage to Paris, Anthony was making happy plans for the next stage of his life. He shared those plans with us, while building up his team to ensure his knowledge of the organisation was carried forward.
We will miss our friend and colleague, Anthony. Please join us in remembering him and the great legacy he has left us. We will share information about the funeral arrangements when they become available.
With warmest regards and great sadness,
Trevor Carr
CEO, RWAV