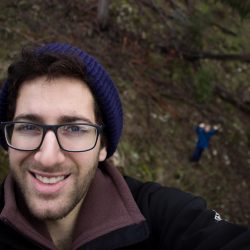 A couple of months ago, Nicholas Sourlos obtained a relocation grant which he used to move from Traralgon to Colac, where he had secured a position as a pharmacist. RWAV caught up with Mr Sourlos to ask him about his journey to becoming a pharmacist, what inspired him to work rurally, and how the relocation grant has helped him.
Briefly tell me about your journey as a pharmacist and how you came to work in Colac.
I am not sure exactly sure why, but pharmacy was the career I had my eyes set on since the final years of high school. I was accepted into the Bachelor of Pharmacy at Monash University. It didn't take long before students became immersed in professional working environments as part of Professional Experience Placements. On top of the routine metropolitan workplaces, I am grateful to have been selected to complete a remote rural placement in Mount Isa, Central Queensland. It was this invaluable experience that opened my eyes to health care services in isolated communities.
When it came time to selecting pharmacy internships, which are a mandatory requirement to becoming a licensed pharmacist, I naturally drifted toward regional/rural sites. It was difficult to make a final decision, but I found myself at Latrobe Regional Hospital in Gippsland. After completing my internship, passing my exams and obtaining my pharmacist registration, I seized the opportunity to be part of the transition of Colac Area Health from a rural to a regional hospital. Among many developments, including the introduction of a Home Medical Officer model (in which the hospital now has a 24-hour medical presence), I have embraced the growth of the services and the focus towards community inclusion. I have not looked back since day one on the job.
And you were a recipient of the Relocation Grant – Allied Health and Nursing Professionals. How was this grant beneficial to you?
The relocation grant is a useful supporting service to allow for a smooth transition to a rural community. As a young professional, the grant has assisted me to settle me into my share house and allowed me to obtain all the necessary home essentials. Without the grant, I believe it would have taken me far longer to become comfortable in my new work role and in the community.
Would you recommend others undertake the grant application process? Why?
Yes, I would recommend other eligible candidates to apply for the grant. The application process requires many supporting documents which invite you to reflect on your role in the given community. This is a useful tool to understand your potential impact on the region.
In 2017, you were a Rural Ambassador for RWAV. For others who might be interested in participating, tell me about the program. How did you get involved in this role and what did you do?
During my internship I was invited to be a part of the team of RWAV Rural Ambassadors and represent and advocate rural careers throughout of the year. To name a few activities, this involved mentoring high school/university students, undertaking hospital tours and attending career days. To highlight and strengthen the skills needed to participate in these events, RWAV hosted numerous leadership focused workshops. Each of these training workshops were starkly different but each of them extremely beneficial. I would definitely recommend the program to other rural health care advocates.
Although I knew of RWAV, I was totally unaware of the existence of this opportunity. Fortuitously, I was approached by a RWAV future workforce officer, and was invited to be a part of the program. For similar programs on offer, I would encourage students to contact their rural student association and to also seek further details from the RWAV website.
Do you have any advice for other allied health professionals who are seeking a role in Victoria's healthforce?
I would recommend that students make the most of their time at university and expose themselves to a variety of work environments. Get involved in as many scopes of healthcare to understand the differences of private versus public models of care, elderly patients versus youths, and most importantly rural versus metropolitan practice. Approach your professional career with an open mind and you will be amazed by the possibilities that exist.