Georgia is a recent occupational therapy graduate from Adelaide. Keen to experience a change of scenery after graduation, she contacted RWAV to pursue an opportunity that would take her to sunny Mildura. We spoke to Georgia to hear more about her motivation for making the move, and how RWAV's recruitment and relocation support helped her to transition into her first graduate role.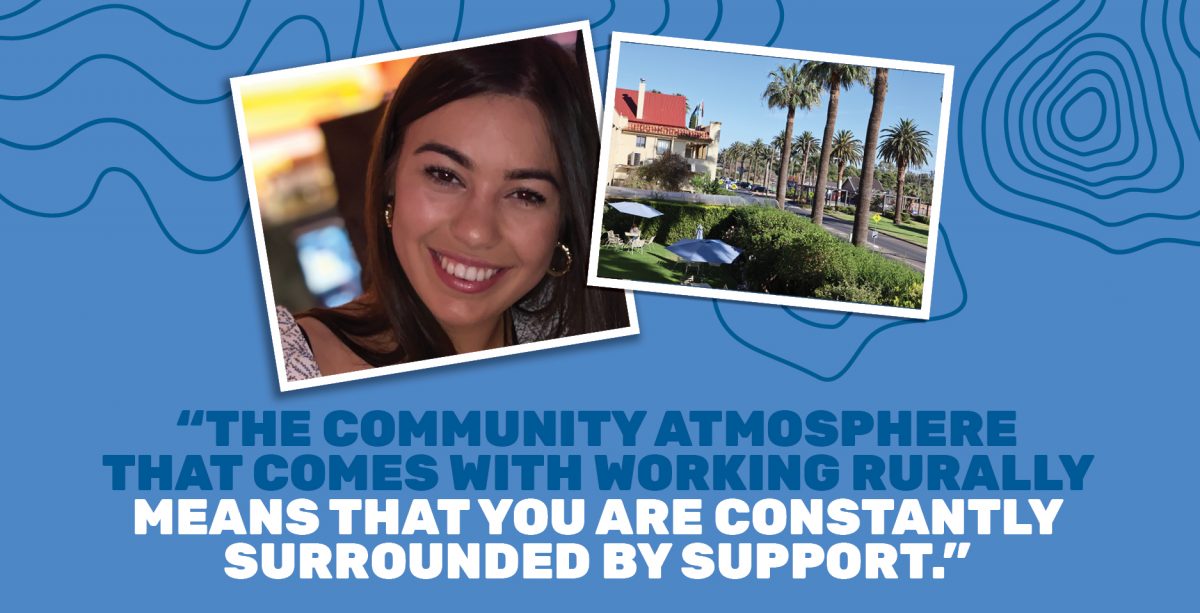 What made you decide to make the move to rural Victoria from Adelaide?
I completed one of my final year university placements in a rural South Australian town and absolutely loved it, and since then I had the desire to work rurally. I was also looking for a change of scenery and a challenge going into my first year in the profession.
How did you find the recruitment process?
Throughout the entire recruitment process, and in the months following being employed, I have received an incredible amount of support through RWAV. The process was very thorough and the staff at RWAV took the time and effort to ensure that my needs of an employer and job environment were met, as well as open opportunities that I didn't even know were available.
You also received an RWAV Relocation Grant as part of our recruitment service. How has that helped you with the move?
The relocation grant eased some of the financial strain that often comes with moving interstate or rurally. RWAV were extremely generous and flexible with what the grant could contribute to, such as removal costs, rental assistance, furniture, and travel costs from home to the new location.
What drew you to the role at Sunraysia Community Health?
One of the things that appealed to me most about the role at Sunraysia Community Health Services (SCHS) was the dynamic multi-disciplinary team. Not only does having a multi-disciplinary team allow for a holistic approach to client care, I believe it encourages strong support networks that encourage growth in knowledge and skills for clinicians.
Can you tell us a bit about your role and the kind of work that you're predominately doing at SCHS?
My role as a community-based adult occupational therapist at SCHS predominantly involves working with people to improve their independence and function in daily living. Some interventions a community-based occupational therapist might implement include capacity building, functional retraining, equipment prescription, and home modifications, that ultimately support people to continue living safely and independently.
You started this role just before the COVID-19 lockdowns. How has your delivery of service had to adapt?
Telehealth has not been a suitable option for the majority of the client demographic, as access to the required technology is not easily accessible. Therefore, the delivery of service has moved predominantly to conducting initial screening assessments with clients via telephone, where functional difficulties can be identified, and goals can be developed.
Following the phone discussion, a short home visit is completed to conduct observations and follow up on recommendations. Prior to any home visit, the clinician asks the client a series of COVID19-related questions to screen for risk and determine if it is safe for the visit to proceed.
Our role has involved working with clients who might be at a higher risk of falling or developing pressure wounds to prevent hospital admissions and ultimately promote independence living in their homes.
Do you have any tips for health professionals considering making the move rural?
My tip would be to just go for it! I highly recommend health professionals to consider pursuing a career rurally, as it opens opportunities for development and growth at a quicker pace when compared to some metropolitan areas. The clients and situations vary tremendously, so no day is ever the same. The community atmosphere that comes with working rurally means that you are constantly surrounded by support.
Interested in work opportunities in regional and rural Victoria? RWAV provides a free end-to-end recruitment service to health professionals seeking opportunities in primary health care such as general practice, community health centers and Aboriginal medical services.
See our current vacancies here.
Want to speak to a member of our dedicated recruitment team? Reach us on 03 9349 7800 or;
screeningahn@rwav.com.au for allied health and nursing professionals
screening@rwav.com.au for medical professionals.