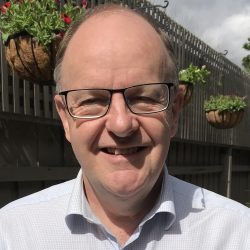 Dr Tim Dewhurst graduated from the University of Melbourne in 1978 and entered internship and the Rotating Residency Program for three years to enable him to work in a rural environment. He then began in group practice in Kerang, Northern Victoria, before then working as a locum around Queensland, Aboriginal Health at Tennant Creek, solo practice in Casterton, Western Victoria, five years of specialist training in Psychiatry, seventeen years of general practice in Cairns and returning to general practice in Melbourne for the past four years.  Dr Dewhurst is now semi-retired and is currently working as a rural l ocum with RWAV.
On returning to Casterton as a locum after more than twenty-six years, Dr Dewhurst was shocked and amazed by the warmth shown by the community. He found every second patient was someone he had known well and they were all keen to fill in the gaps of the missing years.  He was able to track down a couple of old friends and resume their contact. Dr Dewhurst left Casterton this time feeling he was not just an anonymous locum, but part of a community that valued him greatly.
The most rewarding aspect of rural healthcare is the ability to discover the connections and background of the people he treats. He said this builds a greater understanding of his patients' lives, the things that are important to them, and possible causes and solutions to the problems they present with.
The most challenging aspect of working in a rural setting is the need to develop personal boundaries and yet be able to give enough of yourself to be able to offer support and empathy. Dr Dewhurst stresses the importance good supervision and peer mentoring. Most doctors are not used to arranging personal supervision once qualified, although this remains an important element in professional development.
Before entering rural locum work, he advises doctors to update emergency skills through a Rural Emergency Skills Training course or a suitable Advanced Life Support course, and keep these up to date. Facing an emergency situation when unprepared can be very traumatic for any doctor, and even more distressing when they arise in an isolated setting. Dr Dewhurst also advises that when in a new town, make efforts to get to know the community and discover the hidden gems that the town may hold.
Visits to country Victoria as a child left Dr Dewhurst with a deep imprint of love for the bush and small communities. These experiences enable him to practice fulfilling holistic medical care in a unique setting.
Dr Dewhurst is appreciative of the services provided by RWAV enabling him to work in rural Victoria and finds Angela and the team very helpful in ensuring a seamless transition to working in varied clinics and practices. He recommends giving them a call to see what they can offer.