Healthy Ears Better Hearing Better Listening: Providing ENT Service to Swan Hill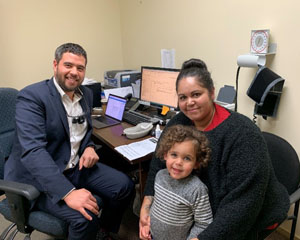 RWAV provides funding support to ENT surgeons Dr De Freitas and Dr Paddle to deliver outreach services to the Swan Hill and Mildura regions.
In the last six years of providing outreach services, Dr De Freitas and Dr Paddle were surprised by the enthusiasm with which they were met by patients and clinicians alike, and how quickly they found themselves fully booked. This demonstrated the need and support for a visiting ENT service to the region.
In response to the regular enquiries from GPs, and patient demand, they have recently begun to increase consultations in Mildura, offering the same level of ENT consultation care and expertise that they do in their urban locations.
Throughout these years, both ENTs have realised that in order to provide a high quality service, and build relationships with local people, it was not enough to provide a 'fly-in-fly-out' service. Perhaps more important than increasing their consulting and operating presence in Swan Hill, and now in Mildura, was the effort that was made in between visits. This has included after visit support to patients and junior staff, whether by phone or video-call, regular education sessions and tutorials, and intensive collaboration and engagement with RWAV, in order to provide a more complete and continuous service. RWAV was also instrumental in helping them provide further access and outreach to Aboriginal and Torres Strait Islander children in Echuca and surrounds.
"As always, a key challenge in providing outreach operative services, no matter the specialty, is the ability to provide a commensurate and safe level of post-surgery support," said Dr Paddle.  "In our early outreach days, both ENT surgeons didn't have a clear strategy as to how they would achieve this goal, erring on the side of insisting many patients have their operation in a major city centre, such as Melbourne, in order to mitigate any risks. With time, we have developed a multi-faceted strategy of after-surgery care and support, between our in-person visits. This has included ensuring that patients are properly triaged and screened before their operation," continued Dr Paddle.
With these mechanisms in place, and with the generous support from the local Swan Hill District Health Service theatres, they have also been able to acquire additional equipment and expand the ENT surgeries offered in the regional setting, including endoscopic sinus surgery.
An ongoing challenge for the doctors is the ability to consistently provide a high quality, culturally sensitive service to Aboriginal and Torres Strait Islander patients. This is in addition to balancing the needs of high quality assessment tools and equipment, with the supportive and familiar environment of the Aboriginal health service. It has taken a number of years in Swan Hill to increase community engagement in this aspect, according to Dr De Freitas and Dr Paddle.
The next exciting step is to incorporate a regular ENT telehealth service to these regional and remote areas, and provide ENT outreach to other parts of the surrounding regions.
The surgeons have been inspired by the many years of work with their senior colleagues and mentors who have also provided ENT outreach in Victoria. Like them, over the last six years, they have found the work to be highly rewarding, a pleasant change from city clinical life, but not without its learnings and challenges. They hope to continue this aspect of their clinical lives for many years to come.