Rural gener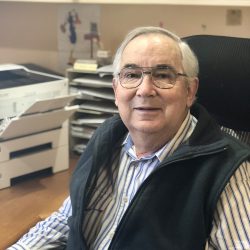 al practitioner (GP) Dr Michael Connor hung up his stethoscope and retired at the end of June. It closed the chapter on almost 48 years of committed service to rural healthcare in Victoria.
"It has been a very difficult decision for Mike to retire but at almost 73 years old he thinks it is time to give retirement a go," said Ms Di Loubey, practice manager, at Otway Medical Clinic. "He is an exceptionally humble and clever man who has made a positive impact on so many. As well as delivering hundreds of babies at the Colac Hospital over the years, he has cared for and championed for the residents of Colanda Centre since it opened in 1976."
Having graduated from Melbourne University in 1967, Dr Connor began his career in a solo GP practice in Beeac in 1969. He later moved to the group practice in Colac in 1971, now Otway Medical Clinic. Throughout his years of practice, Dr Connor guided many community members into the world and gently farewelled others. He took particular delight in delivering babies to new mothers who he had previously delivered himself.
Dr Connor has never hesitated to share his expertise with others or extend his speciality knowledge. He has been the Vice President of the Victorian Branch Council of the AMA, has trained and mentored registrars and students. In 1981, he received The Fellowship of the Royal Australian College for General Practitioners, a specialist qualification accredited by the Australian Medical Council and received the Monty Kent-Hughes Medal for achieving the highest marks in each Fellowship exam.  He has a Diploma from the Royal Australian and New Zealand College of Obstetricians and Gynaecologists, aviation medicine qualifications and, has been a member of the Australian Society of Anaesthetists and a Fellow of the Australian College of Rural and Remote Medicine.
Dr Connor was a passionate aviator, having built his own plane in the 1980s. Upon its completion, he flew himself everywhere for the next 25 years. When he became an instructor in advanced life support obstetrics, the plane allowed him the flexibility to teach the management of obstetric emergencies all over Australia and additionally, work in locum positions on Norfolk Island, an Australian Territory.
"His colleagues will miss his support and guidance, our patients will miss his care and dedication and the team at the Otway Medical Clinic will miss his friendship and 'dad jokes' in the workplace," continued Ms Loubey.
Best wishes on your retirement Dr Connor!