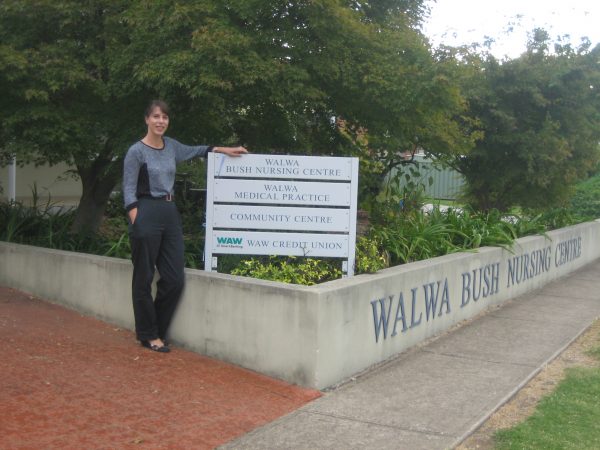 Dr. Stephanie Tovey, born in New Zealand, moved to Australia to complete her post graduate Medical degree at Flinders University. After spending 2 years in Adelaide, Stephanie relocated to Darwin for her clinical placements. Her exploring nature led her to complete her elective terms in Swaziland, Africa and Berlin, Germany. Completing medical school, Stephanie moved to Melbourne to follow her passion to become a General Practitioner, following her parents' footsteps.   Stephanie was inspired to pursue a career in general practice by both her parents, who were GPs in Auckland.
Stephanie in keeping with her innate drive to explore, decided to become a locum and experience living in different parts of Australia and work at diverse clinics. Her first Locum placement was in Walwa as a new fellow doctor. She was "slightly nervous not knowing what to expect but RWAV and the team at the clinic were incredibly friendly, helpful and supportive and made my experience a very positive one".
The rewards of rural healthcare according to Dr. Tovey are the " feeling of making a big contribution to a community, and the ability to have great relationships with the local people and get to know them better than you might in a large city". Though working as a locum has some challenges like "having to get used to new clinics, work environments and seeing patients for the first time" but the "rewards are great". Dr. Tovey says being a Locum opens up new adventures like the opportunity to travel, explore Australia and have amazing experiences.  She says "good remuneration, flexibility to specify your work areas, times and expectations" makes locums a very rewarding career option. Stephanie advices new locums to go into each job with a "good attitude and willingness to work cooperatively with the team and they will go out of their way to make your work smooth and enjoyable for you". "Make the most of your time in a new place, explore the area and have fun", she adds.
Dr. Tovey is grateful for the great support and assistance she received from RWAV.  She said "RWAV has a lot of rural opportunities and were flexible and open to listen to what would be important from me and kept in touch throughout to make sure I was going well, which I really appreciated". She went on to say that by working with RWAV it also helped the clinics which might otherwise not have access to the workforce they need. Stephanie looks forward to settling into a rural clinic next year while having a few more locum adventures on the side.
Walwa Medical Centre has an ongoing need for locums, for more information on this position or other locum opportunities, please contact the Locum Services Program Officer on 9349 7800 or email locum@rwav.com.au