Dietitian Helps Young Rural Families to Live Healthier Lives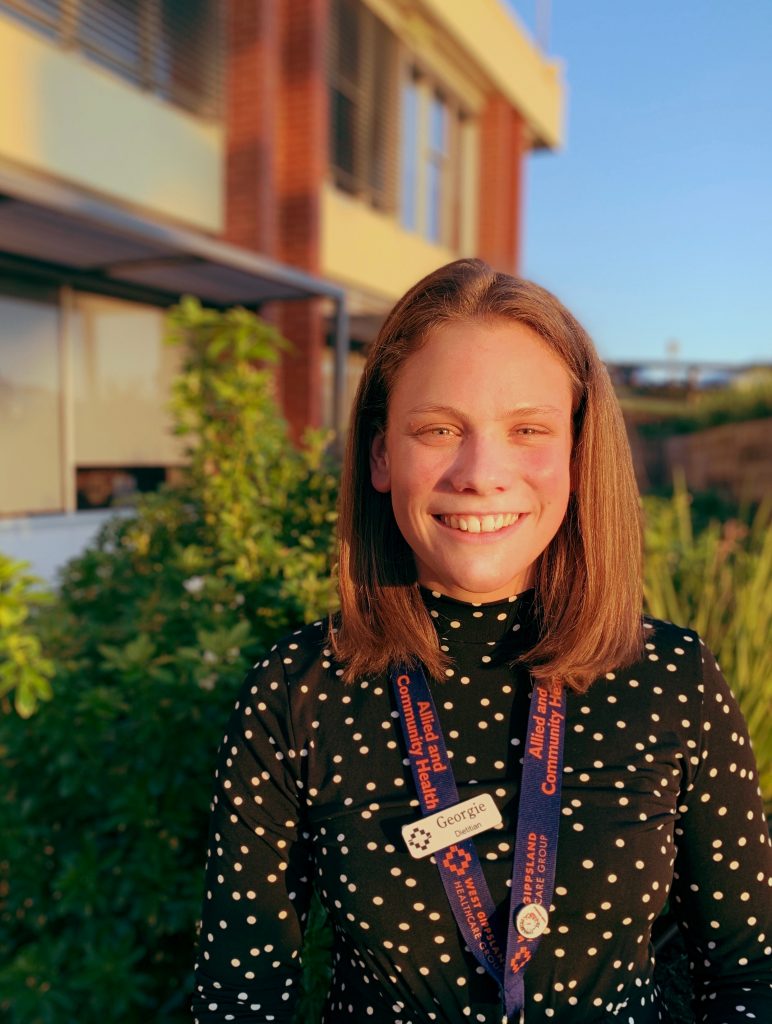 Georgie Barber is a Dietitian working at West Gippsland Healthcare Group. Georgie was interested in expanding her paediatric skills, so she applied for an RWAV CPD for Allied Health Grant to help her attend a training course held in Sydney. The result is that Georgie can now help to see paediatric clients and is continuing to develop the positive programs that her team runs to educate young families about the importance of healthy eating. We spoke to Georgie to hear more about her experiences as a dietitian working in rural health.

Tell me about your journey as a dietitian and how you came to work at West Gippsland Healthcare Group.

I graduated from a Bachelor of Nutrition and Dietetics degree at Monash University in 2016. My first job after finishing uni was as a research assistant, where I worked on studies investigating chronic wounds. I was offered the dietitian position at West Gippsland Healthcare Group (WGHG) a few months later, and I continued working both of these roles part-time over the last two years. I now work solely at WGHG so that I can focus on building my clinical skills.

What do you enjoy most about working in rural health?

My favourite part is the fact that you can have contact with patients in this integrated health service at every step in their hospital journey, from acute, through to outpatients, home visits and aged care. It's a very close-knit team here at Warragul, which makes it easy to stay in the loop with patient progress. Working rurally has also given me the opportunity to see more complex clients and a wider variety of clinical conditions, compared to being on the same ward allocation daily in a metropolitan hospital.

You live in the Eastern Melbourne suburbs and commute to Warragul for work. What's that like?

It doesn't take long to commute from the Eastern suburbs of Melbourne. I carpool with other allied health staff who work at WGHG, which is great for getting to know co-workers. You took up the opportunity recently to apply for the RWAV CPD for Allied Health Grant. How did you use the grant, and how will the skills you learned help to benefit the health outcomes of the community?

The grant allowed me to attend the Dietitians Association of Australia National Paediatric Training Course held in Sydney. I wouldn't have attended the course if the grant hadn't been available! Expanding my skills in paediatrics has been something I've wanted to do for a while. As we are a small team of dietitians at Warragul, I am now able to help with seeing our paediatric clients when other staff are unavailable.

Why was it important for you to undertake the course in paediatrics?

The Baw Baw Shire is a growing region for young families as it's an affordable area but not too far from the city. Each year we are seeing more paediatric patients, including type 1 and type 2 diabetes, fussy eating, eating disorders and disability. If these conditions aren't managed at an early age and early stage, the risk of chronic disease later in life is much higher. 

The sooner we can start the conversations about healthy eating, the better the outcomes for young families. We are already running programs directed at educating families with young children, and our Positive Pregnancy Program encourages healthy eating during pregnancy. Growing the presence of dietitians and healthy eating in schools is something we have started to tackle, and we think it would be really beneficial.

If you are interested in undertaking a course to upskill as Georgie did, consider applying for a grant. RWAV offers grants and scholarships to allied health professionals working in rural and regional Victoria. Find out more here. If you are interested in working in rural Victoria, contact our Recruitment team at screeningAHN@rwav.com.au.
 
The CPD for Allied Health Practitioners grant is an initiative of the Victorian Government department of Health & Human Services administered by RWAV.