RWAV was instrumental in changing the lives of nine Aboriginal and Torres Strait Islander children from Mildura and Echuca. They were able to undergo ENT surgery after being on wait lists for years. The children were operated on in January 2017 by renowned ENT surgeon, Professor Stephen O'Leary at The Royal Victorian Eye and Ear Hospital. RWAV worked closely with Professor Stephen O'Leary, The Victorian Royal Eye and Ear Hospital and the Aboriginal Community Controlled Health Organisations- Njernda Aboriginal Cooperative, Echuca, Mallee District Aboriginal Services, Mildura and Victorian Aboriginal Health Service, Fitzroy  to ensure these children received much needed ENT surgery.
Prior to surgery, RWAV was able to talk with the children and their carers about the impact this program would have on their lives.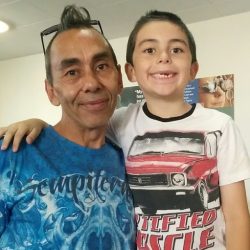 Bright young Darius has had ongoing hearing problems over the past five years and has been "struggling in school" said his dedicated father, Keith. Darius excels in math and reading but due to his hearing difficulties, his speech and education have suffered significantly. He has ongoing ear aches and has had to miss school at times. "He has been receiving speech therapy for 2 years and still his pronunciation isn't clear" says Keith.  A beaming Keith says RWAV has been a "God send" and looks on to his youngest son saying "his life is going to be so different for the rest of his life".  The single father who lost his wife two years ago, said he "couldn't believe" that they were "able to get help for his son so soon, knowing waiting lists for surgery were well over 3 years". They both look forward to a speedy recovery and enjoying their time together.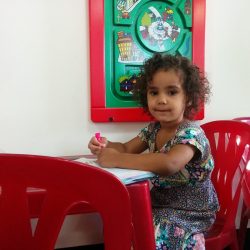 Though a bit hungry having to prepare for surgery, little Armani decided to colour while in the waiting room "in the big city". Her concerned mum says she can't wait for Armani to be a "kid again" as she is always sick and feeling tired due to complications with her tonsils. She is constantly on pain medicine and antibiotics. This surgery will "make all the difference to the entire family".  Bobbi-Jean, Armani's mother couldn't hide her emotions saying she is "so happy, lucky and grateful and can't wait to see her daughter "growing up with no complications and just enjoying life".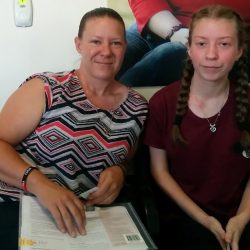 16 year old Brodie has been on the waiting list in Mildura for surgery for over 3 years and hadn't been able to access surgery until RWAV intervened.  She has missed so many days of school due to illness and infections quickly escalating to glandular fever. Her mum Sarah , is so grateful that her daughter can now commence year 10 and be able to attend school regularly and not fall back on her studies.  In the past year, Brodie has had to access a specialist tutor to enable her to keep up with her missed school work. Brodie couldn't wait for her surgery to "just get them out" and go to school and "stop the tutoring".  Her mum says "hopefully she can be livelier and be herself" rather than  being "so sick, lethargic and tired for the past 3 years". They look forward to a brighter and healthy year ahead for Brodie .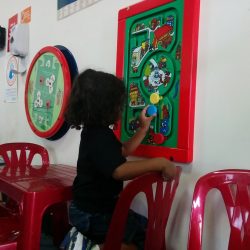 After a long drive down from Echuca, Kellie looked relaxed while Durant was busy playing with the toys in the waiting room at The Royal Victorian Eye and Ear Hospital.  Kellie was so glad to see Durant receive surgery in Melbourne and to see the positive effects on him after the surgery.  She found the coordination was done very smoothly by Njernda Medical Centre and was "so thankful" to RWAV for initiating the program which will make an immense difference in the life of little Durant. Kellie was grateful that they didn't have to bear the cost of surgery, accommodation and travel to Melbourne, which was very "helpful as well" she said.  She looks forward to him recovering soon and continue his explorations.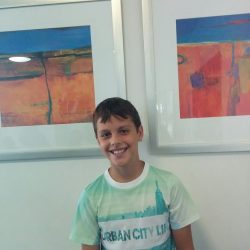 Eric has been suffering with bad ear aches for years now and can't wait for the operation to "stop the pain".  His mother Sally, says she even got "private health cover this year to try to have Eric have the surgery faster".  Even with private health cover the waiting list is over a year away. Eric and his mum are delighted to be in Melbourne to have his surgery and return home.  Eric says he is not looking forward to "putting stuff in his ear when he goes swimming" but understands that after the operation, he will have to protect his ears. He looks forward to his ears not bothering him as they "hurt too much".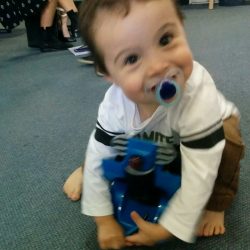 Bubbly little Brandon was busy playing with a truck at the waiting room where his parents looked on, waiting for their son's surgery. Brandon has had 7 severe tonsil infections over the last year which he has had to be hospitalized for and is constantly on steroids, antibiotics and hydrolytes.  He would be sick for over 2 weeks at a time and caring mum, Sage says he would not eat or drink as he is feeling so unwell. She says he hasn't gained any weight in the past 6 months which was very worrying for them.  They can't wait to see Brandon "feel well, speak more and gain weight" after surgery.  They are so grateful for their son to be able to undergo surgery so soon and looks forward to much happier times for all of them soon.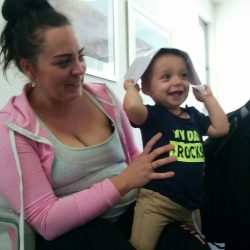 Little Noah loves playing peek-a-boo, even while feeling hungry, as he was fasting in preparation for adenoid surgery.  His supportive mother Kim says "he only has 4 hours of sleep a night and wakes every 20 minutes". Noah has already had 4 hospital stays with pneumonia and Kim is positive that the surgery will "help Noah so much". Kim is so thankful to "everyone who helped to organise everything for us" and is excited to see how Noah will feel after his surgery. Noah was one of the first clients to be referred into the Eye and Ear Surgical Support service program at just 4 months of age. It hasn't been until know that he has been able to access support.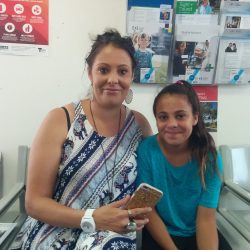 Every couple of weeks Marika has  painful ear infections and has to visit the local hospital every few months when it becomes too painful. They have to then drain her ears for fluid buildup. She is hoping the surgery will help her "breathe easier and that the ear aches will  go away". After surgery she plans to eat "lots of ice cream" and is looking forward to not having to eat "soups and noodles" which is what she can eat when she is feeling sick. Marika's mum, Tatum says she is "really glad to have had this opportunity for Marika to have surgery in Melbourne".  Marika can't wait to enjoy this summer joining her brothers in the pool, free from her ear infections after her surgery.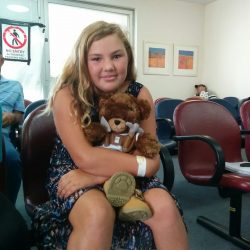 Cloey is "irritated" with her constant sore throat, which gets worse at night time and she finds it hard to have a good night's sleep.  Carrying her "build-a bear" she is ready to go in for surgery and she hopes it will help her to not feel "so tired and sleepy all the time".  Cloey's mum, Kathy is "very grateful" for being able see her daughter receive surgery and the support they have received to "get flights and accommodation in Melbourne". She wants Cloey to finally be able to enjoy playing sport, as she has not been able to before because she was always "over-tired".  After being on the waiting list for 3 years, she is thankful to the organisations who helped "arrange this opportunity".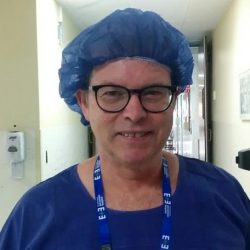 RWAV had a quick word with Professor Stephen O'leary on his way to the operating theatre. Professor O'leary was delighted to be involved with RWAV to provide this life changing procedures to the 9 Aboriginal and Torres Strait Islander children from Mildura and Echuca.  He said "he was only doing his job" and is "glad that this service could be provided at The Royal Victorian Eye and Ear Hospital'. He is pleased that the children can return home with enough time to recover before they start the new school year.  Professor Stephen O'Leary has been providing ENT outreach services for RWAV under the Healthy Ears program at the Victorian Aboriginal Health Service in Fitzroy and Aboriginal Communities in Gippsland.