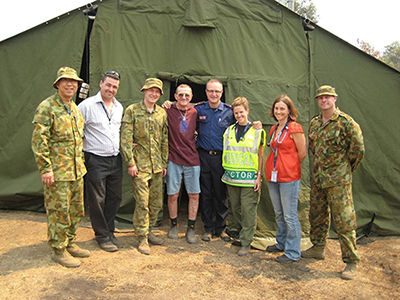 The devastating Black Saturday bushfires on 7 February 2009 killed 173 people, destroyed habitats and communities. In the immediate aftermath of the fires, RWAV registered 324 locum General Practitioners (GPs) to volunteer in affected areas. RWAV spoke with Dr Katrina White, one of the GP locums who provided emergency medic​al care after the fires, and learned how the experience has shaped the healthcare services she now delivers.
After the bushfires, RWAV coordinated a team of volunteer GPs. The GPs would meet at a hub and travel to provide emergency GP locum to all affected areas.
Some of the many communities impacted by the bushfires included Kinglake, Whittlesea, Kinglake West, Marysville and Flowerdale.
When Canadian-trained GP Dr Katrina White learned about the bushfires she was ​working an emergency medicine shift in Orange, New South Wales. She recalls calling around to see how she could help those impacted, but ultimately feeling disappointed because of the ​interstate licensing restrictions in place.
"I contacted RWAV to offer my assistance and was told they could push my request through the system," recalls Dr White. "Two hours later, I was ​packing my 4WD and dropping off plants with friends because I didn't know how long I'd be gone."
Dr White drove the 14 hours from New South Wales to provide emergency locum relief in ​Kinglake, Victoria. She had previously provided medical support in bushfire-affected communities in ​rural Canada.
RWAV provided ongoing support after the emergency work was done to ensure the communities had access to healthcare in temporary structures then to the permanent structures that they have today. This is how RWAV's GP locum program got its start.
​During this time Dr White spent a week working ​as a volunteer doctor a​long side nurses in Flowerdale, which ​tragically lost 10 of its residents and 80 per cent of its homes.
"I worked with ​Deb, a great nurse ​from Seymour ​and local paramedic volunteers; we set up a temporary medical clinic out of the ​local community hall in Flowerdale," said Dr White. "We conducted ​home visits to local residents, treating various medical issues and providing tetanus immunisations ​for those in need who remained in the community. ​I w​as fortunate to ​be offered accommodation at a local bed and breakfast ​in Strath Creek that enabled me to stay working in the community."
"​Soon after I volunteered for the Kinglake Bushfires I relocated to Victoria and settled on the Mornington Peninsula where I joined a practice and expanded my skills training in skin cancer medicine, which is a big part of the work I do today. For many years after Black Saturday, I continued to travel to Kinglake to work on a regular basis, helping the community recover and rebuild after the bushfires. Through RWAV, I enjoyed taking on further GP locum work that has taken me to Apollo Bay up to 10 times per year providing hospital emergency services, ​running skin ​cancer clinic​s, women's health consultations and anything else the community ​has need​ed. I also ​travel to ​Leongatha in the Wilson's Prom area ​to work a 24 ​emergency medicine shift ​in their hospital once a month. ​I have had great experiences doing GP locum work for RWAV, it just needs to be a balance of what I like and wh​at fits my family."
Today, Dr Katrina White, works as GP ​on the Mornington Peninsula and provides ongoing locum work to surrounding communities through RWAV. The Kinglake medical clinic burned down in the fires and there was no GP in town. RWAV coordinated GPs to attend the community in a temporary structure until a new clinic was built. Dr White ​was part of this team for seven years that helped support the region which today, has a large operating medical facility that services the community.
If you are interested in a GP locum placement or learning more about the program, visit our GP Locum placement listings or call us at 03 9349 7800.
Funding from the Australian Government Department of Health supported the GP Locum program in the aftermath of the Black Saturday bushfires.