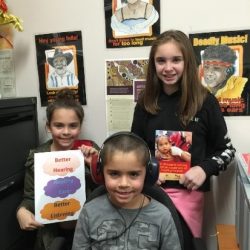 Ramahyuck District Aboriginal Corporation now provides culturally appropriate primary health care and best practice medical services across the Wellington, Latrobe and Baw Baw Shires of the Gippsland region.
Prior to the services, Ramahyuck's Regional Practice Manager identified that access to bulk-billing audiology services was limited and that it was difficult for clients to get to and from appointments. Ramahyuck also identified schools within their catchment areas had a high proportion of Aboriginal and Torres Strait Islander children who were not accessing hearing assessments.
Having successfully applied for Healthy Ears Better Hearing Better Listening funding, an audiologist will now better assist Ramahyuck's audiometrist to provide audiology screening at schools in Sale and Morwell as well as providing hearing services at their three clinics.
The new audiology service provides referral and support to the existing outreaching ENTs who attend Ramahyuck's Morwell site monthly and will be integrated with the chronic disease coordinators, practice nurses, Aboriginal health workers and Koori education support officers. This service will enable early detection and prevention of hearing issues, therefore reducing disadvantages that many Aboriginal and Torres Strait Islander youth experience.