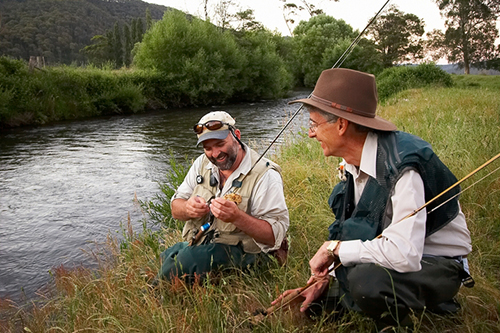 The Walwa Bush Nursing Centre is operated by nurses ranging from registered nurses with Remote Area Nurse Endorsement, to a nurse practitioner who has significant experience working in the community. Through their expertise, and a reliance on RWAV to provide General Practitioner (GP) locums, the centre is able to provide continuity of care for patients. The outcome is a clinical model built on trust and appreciation by residents who can continue to live and work in a rural community. We spoke with Sandi Grieve, CEO and nurse practitioner at the centre and office manager Melinda Short about their experiences in country practice.
Tell me about the Walwa Bush Nursing Centre, the services it offers and the size of the community.
The centre provides a General Practitioner (GP) service four days a week and services about 1,200 active patients. The centre also sees clients who travel from the surrounds of up to 45 minutes away.
We've always had excellent GPs at the clinic. Plus, our practice nurses have between 30-40 years of experience and this has helped us develop a long-standing relationship between staff and the patients. Over the years, our GPs and nurses have come to know the conditions people present with. It's a reason why we've been able to draw from such a large area. Our clients know and trust the staff and the service they provide.
The nurses provide significant support and backup to our GPs. For instance, they accommodate the overflow as well as provide triage for unwell patients presenting on the day. It makes the approach of the Centre very collaborative and I believe it assists the clinic in the return of GP locums.
How long has the Walwa medical centre been working with RWAV to provide locums?
We've been working with RWAV for more than seven years for our GP locum placements.
What qualities do you think makes someone successful in working for a small country practice?
At a professional level, working in a rural area provides a great deal of variety. The presentations are diverse, but the patients are the same, so you develop great therapeutic relationships. It is extremely satisfying, being able to support people throughout their entire health journey. You get to make a difference, but you also get to see the difference you make.
Do you have any tips for anyone looking to work in rural healthcare?
Just do it! Life is too short to not have experienced the beauty and lifestyle of rural living at least once. See the stars and have no traffic on the way to work!
I came from Sydney in 2000. Back then, when my husband I did this tree change, we had no children. We came here because of the beautiful scenery. Our hobby is riding motor bikes and we found it was a great place to ride the bikes. We often rode through on our way to the Phillip Island bike races.
Living near Walwa, I am never too far away from anything. I can walk to the Murray River, the pub, the vet and I'm also only an hour and fifteen minutes to the major regional centre, Albury-Wodonga. We bought a 200 acre farm for the same price as a home in Sydney. We have our own space and it's not isolated. It ticked all the boxes.
What are the advantages of working in a smaller community as a health care professional?
According to Sandi, some of the many advantages to working as a nurse practitioner in Walwa includes knowing the patients really well. We know their families, their challenges, their jobs. So we can be extremely inclusive and holistic in the care we provide. If they don't get better, they come back, if they do get better, you will still see them again, sometimes at the local store! So, you get the satisfaction of seeing your work come to fruition. If we send somebody to a larger centre for more definitive care, we are then charged with providing services on their return.
When I worked in the city, I didn't get to see the outcome of my work. Patients would leave the ED and we never found out if they got better, or had to go somewhere else, or got worse. Working in rural health, the circle of care is much more holistic.
There was a bit of serendipity in how I came to Walwa. I had just finished a contract at The Alfred in Melbourne and I had come to Walwa to camp and fish for a few days. I was talking to a local about how much I would like to work in the bush. On my return home, the director of nursing called me and offered me a job. The hospital had just coincidentally had a resignation, and it turns out the local I was talking to, was the Board Chair who somehow was able to track down my phone number in Melbourne. I said I'd come for six weeks and give it a try. Closing in on my 30th year, and I'm still here.
For a health professional who are unsure about taking up rural medicine, I'd tell them to 'give it a go.' You'll likely be surprised with the capabilities of rural emergency departments, practices and the skills of practice nurses. A word of advice before you start: have clear boundaries about where your job begins and ends. As a result of being so client-based, you will regularly cross paths with your patients, as well as see them in the main street and the supermarket.
There is so much value in working rurally. You can make a difference for someone in a rural area and they will appreciate what you've done for them.
If you are thinking about undertaking a locum placement and/or would like more information on the current vacancies, visit the Vacancies page.