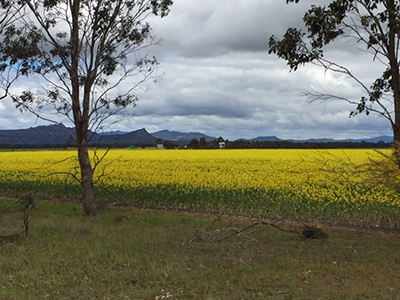 For just over nine years, Wendy Liu, owner and practice manager of Yarriambiack Medical Clinic in Warracknabeal, has relied on RWAV to provide General Practitioner (GP) locums. Many GPs return for repeated placements. RWAV caught up with Wendy to learn about working as a health professional in Warracknabeal and the unique qualities of the rural community.
Tell me about the Yarriambiack Medical Clinic, the service it offers and the size of the community.
We are a general practice clinic and provide services ranging from general medical care, antenatal care, insurance medicals, skin checks, small surgical procedures, women's health, immunisations, travel medicine, workcover, teleconferencing, echocardiographs, spirometry, wound management and more. The size of the community we serve is approximately 2,800 people, plus the surrounding Wimmera area. We have two full-time GPs and a part time doctor who has provided the women's health service for the last 12 years. The local hospital and aged care facility are in the same building with our Clinic.
How does RWAV support the clinic? How long has this been going on for?
RWAV supports us by finding GP locum doctors. We are offering our own homes for them to stay and work with us. RWAV also helps with the paperwork to finalise the position and helps doctors obtain provider numbers so that they are ready to practise when they locum with us. It has made it very easy for us. We have had locum doctors enjoy their time greatly here, meaning that they will often return to our practice. RWAV has always gone out of their way to help us to get locums.
What are the advantages of working in a smaller community as a health care professional?
We know the patients very well, with the patients in our community spanning across generations. Because it is a small community, we understand our patients' needs well and they appreciate seeing the familiar faces of their doctors, who are not only professionals, but also members of the community themselves. We also take care of our locums and make them feel welcome while they're here. We offer our own home to our locums, and how we could be contacted if need be. We ensure the house the locum doctor is staying in is clean and welcoming. I think it's these personal touches that keep them coming back, due to the positive experiences that they have. We are greatly appreciative of their help.
Do you have any tips for anyone looking to work in rural healthcare?
It's important to always consider the other party and make them feel welcome. You can do this by introducing them to local people so they get a chance to get to know the local people and area of attractions.
RWAV's locum program supports retention of doctors by providing locum relief for holiday, sickness and education leave. If you are interested in a locum position at the Yarriambiack Medical Clinic or any other rural Victorian community, review vacancies here or contact us by phone at 03 9349 7800. Alternatively, you can email locum@rwav.com.au to get in contact with us.