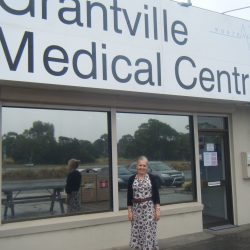 For the past three years Dr Sally Taylor has been working as a full-time GP locum and says the rural lifestyle, the work environment and the community connection make for a very rewarding career.
"It's a great way to travel, I really appreciate getting to see the country," says Dr Taylor.
"I don't really like being a tourist, you just pass by so quickly. But when you are in a place working for a longer period of time, you meet so many local people and you really get a feeling for the place," she says.
After a few sessions working as a locum Dr Taylor quickly discovered a love for the rural life.
"I found I really liked being in the country, I like the environment, I like the rural towns. It's much more relaxed being out in nature, and after work there's always a nice place to explore and unwind," she said.
Dr Taylor explained that locum work is quite different from full-time general practice.
"Having a new patient every 15 minutes, and especially if they have a complex medical problem, you have to get a handle on it – it's a lot to process."
"But," said Dr Taylor, "the country practices are really well run with really competent practice managers and very friendly and helpful reception staff."
"The doctors are always prepared to help you out, you'd never get stranded," she said.
Recently Dr Taylor took a position in Grantville because of a personal family connection with the area. Her great-grandfather was a pioneer in that part of Gippsland and as a child her family would visit the remaining relative there.
"I thought it would be nice to go back," she said. "A couple of local older patients who came in knew my relative and were very happy to chat about their association with him. They were quite tickled to meet a descendant of one of the pioneering families."
She says that is the kind of experience which illustrates the interconnectedness with more than just your local world.
Dr Taylor's career has taken her to other remote areas of Australia such as the Kimberly and Cairns and overseas to California, USA and Fiji, where she still returns to three months a year to volunteer.
She has also worked in refugee health and with Indigenous health practices where, she says, learning about these communities can be eye opening.
"Being able to hear their stories you gain a much better understanding than what you read in the newspaper. It's like an education in life," she said.
"I feel like being a doctor in those communities is a privilege, offering some direct form of help and service."