VicOutreach Funding Application
VicOutreach Funding Application
RWAV is the Victorian fund holder for six Australian Government outreach programs including:
Outreach programs significantly improve the range of health services available to rural, regional and Aboriginal and Torres Strait Islander Communities. It enables access to health professionals in areas where they cannot attract, or it is not viable to sustain a local service provider.
Outreach programs provide a flexible funding pool to support health professionals to deliver health care services in outreach locations by providing funding support to cover the basic costs of travel, accommodation, meals and other associated expenditure. In some cases, program funding may also extend to the clients and carers.
How to become an Outreach Service Provider
If you would like to become an Outreach Service Provider you will need to complete the online VicOutreach Application Form below. Once the application has been submitted it will be reviewed by the VicOutreach review panel. The review panel identifies if the application meets the needs of the community that they would like to provide outreach services. The needs are determined by a Needs Assessment and through community consultation. If it is approved by the review panel the application is put forward to the Commonwealth Department of Health, who then reviews it and if the application is approved then it is sent to the Victorian Advisory Forum (VAF). The VAF includes representation from the Commonwealth Department of Health, Victorian Department of Health and Human Services, Primary Health Networks, Victorian Aboriginal Community Controlled Health Organisation (VACCHO), CEOs from rural and regional health services and peak bodies such as Optometry Victoria.
The VAF makes the final decision on all funding applications.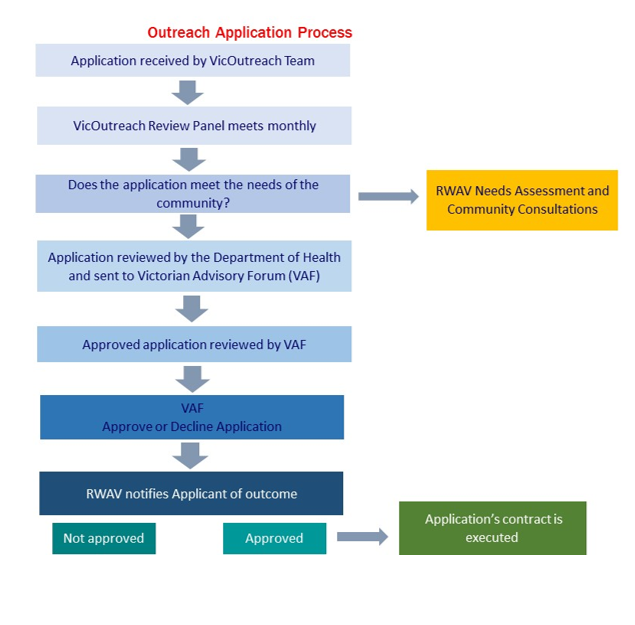 For further information regarding VicOutreach Programs please contact us on 03 9349 7800 or email us at vicoutreach@rwav.com.au.