Position Description:
Housing assistance
Speacialised induction program from a not-for-profit organization which supports health professionals in Yarram.
RRAM5 – Eligible for A1 Medicare rebate
Eligible for the RLRP Program
DWS
Role:
A highly profitable opportunity for a rural General Practitioner to join an accredited primary rural and remote training post (ACRRM) in a beautiful part of Southern Gippsland, only 2 hours from Melbourne. GP Sessions are available with VMO and On Call for Category 1-3 patients plus Category 4-5 from 8 am- 9 pm only.
Telehealth support from nearby Regional Hospital is available from 9 pm to 7 am for Category 4-5 patients. This rural practice is attached to a health service that has a 20-bed hospital, 3 Renal Dialysis Chairs, 60-bed Aged Care, Community Care, Palliative and Urgent Care centre.
Essential Criteria 
General /Specialist registration doctors (prefered)
 can support Limited registration level 3/4.
The Package:
Sponsorship/Mentoring available
Salary negotiable % of billings based on qualifications. A highly attractive package will be offered.
Accommodation provided for a period.
Relocation grant available
Support from local paramedics, experienced nursing, allied health and clinic staff.
Practice Details:
2019 will see the Yarram Medical Centre move from its temporary location at 121 Commercial Rd, to a new $5 million state of the art Integrated Healthcare Centre.  The Centre will incorporate YDHS Primary Healthcare services under the one roof giving easy access to medical, allied health and community support. The Centre will adjoin the hospital and Aged Care facilities.
Dr Greg Ivanoff, Practice Principal, has been an accredited Supervisor in Gippsland since 2011 and is an Adjunct Senior Lecturer with the Monash University School of Rural Health (South and East Gippsland). He is also certified as an International Medical Graduate Supervisor with AHPRA.
Greg is a strong advocate of Australian rural generalism and the provision of ongoing sustainable medical services to geographically isolated remote farming communities as well as local indigenous populations such as the local Wulgunggo Ngalu Learning Place.
YMC is an accredited Practice and currently employs a Practice Nurse, Chronic Disease Management Nurse, Practice Manager and four Receptionists. The accredited, computerized teaching has access to local allied health practitioners and specialists including a visiting Paediatrician and Women's Health doctor. Medical Student, Registrars, and Fellows are supported by our practice nurses and an experienced administration team. Practice hours: Monday – Friday 9:00 am – 5:30 pm and Rural hospital Ward round are 8 am daily. Please feel free to contact our Practice Principal, Practice Manager or CEO if you need more information.
Yarram (Population -Township 2000, total service area 6,000) is at the heart of some of the most beautiful country in Gippsland.
Local Facilities: Child Minding, Early Learning Centre, 4 Primary Schools (public & private), 1 High School in the immediate area with a wide range of private high schools within school bus service area. Fully Serviced Library, NBN, Outdoor Swimming Pool, Tennis, Badminton, Squash, Skatepark, Basketball, Gym, Bowls, Football, Netball, Touch Football, Horse riding, Bush Walking, Fishing, Surfing & Australia's Number 1 ranked volunteer run golf course.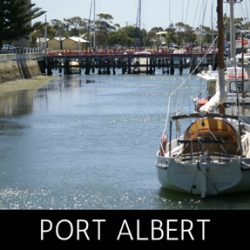 Yarram is ideally placed midway between some of the best tourism destinations in Victoria – 20 mins to Tarra Bulga National Park with towering old growth native trees, fern-filled gullies, trickling streams and majestic waterfalls; 20 mins to 90 Mile Beach – one of the most natural and unspoilt beaches in the world, ideal for any number of beach activities from beach fishing and swimming to walking, whale and dolphin-spotting or just lazing in the sun; 10 mins to Port Albert – a historic port originally the gateway to the Victorian goldfields and heart of the old fishing industry, now a wonderful place to fish, cruise the local waters, head out onto Bass strait, go on a cruise to Refuge Cove, or just wander along the shore and soak in some of the best sunsets along with local seafood, whether it be some of the best fish & chips you will find anywhere or fine dining at Wildfish (winner of he Victorian Seafood Industry Award for best seafood restaurant).
Yarram itself is a well-resourced community for its size, boasting a Woolworths as well as a locally owned Foodworks; a historic theatre which shows movies through parts of the year and brings well known music acts from Melbourne; two pubs, a well-developed local arts community with a number of art galleries including the historic Courthouse Gallery which can be rented out by local artists for exhibitions as well as local art groups and classes; Award Winning Café's, Social Dancing, Rock n Roll Dancers, a Choral group, Local Produce share programmes and at least 6 local markets per month in the area.
Yarram is extremely supportive of the Yarram Medical Centre, having established a non-profit association (CHRISY Inc) specifically tasked with attracting, retaining and supporting medical and associated health professionals to the area, as well as fundraising and gathering community support to improve the equipment, resources and services needed to support the health of the community.  They work in concert with other community groups in our area and similarly focussed groups in other areas of Gippsland to further enhance the opportunities for medical & health professionals who come to the area.